Baker Boyer awards Finance Academy scholarships
---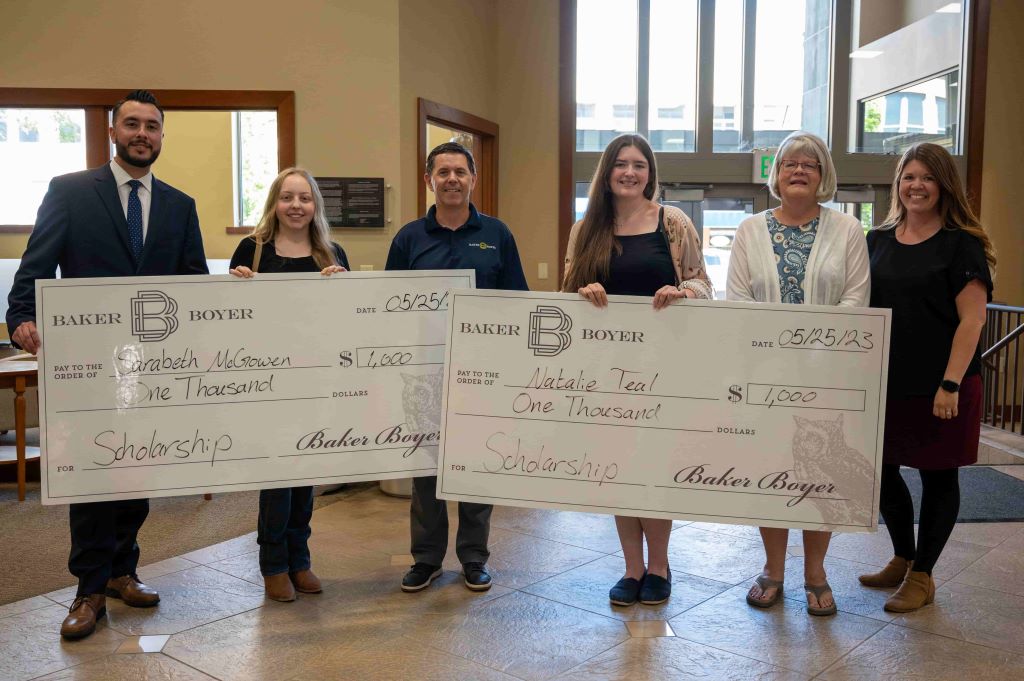 Baker Boyer is thrilled to announce the recipients of three $1,000 scholarships through the Bank's financial literacy program, Finance Academy by Baker Boyer.
Kaitlyn King, a 2023 Walla Walla High School graduate, and Sarabeth McGowen and Natalie Teal, both 2023 graduates of Waitsburg High School, have been selected as this year's winners. The scholarship competition is open to students who complete the program that brings critical concepts around budgeting, credit cards, student loans, retirement plans, taxes, stocks, mortgages, and more into classrooms.
"We are proud to contribute to the academic journey of these talented individuals, investing in their potential to make a positive impact on our community," said program leader and Baker Boyer Credit Administration Specialist Chris Christianson.
This is the second year for the scholarships. Finance Academy is administered through a partnership with international tech company EVERFI, which delivers the digital lessons. Schools can participate at no cost. Teachers are provided training, tools and support.
The program was initiated by REDEF, a Baker Boyer committee helping redefine the Bank's evolution into the future, including preparing the next generation for adulthood and wise financial decisions.
"Finance Academy by Baker Boyer experienced tremendous growth over the school year", Christianson said. Nine high schools, including four additions — Waitsburg, College Place High School, East Valley High School (Yakima) and Granger High School in Granger — participated, with 196 students served. The initiative also expanded into K-8 classrooms, in collaboration with Sharpstein Elementary, 21st Century Learning and Saint Basil Academy. Additionally, students from Lincoln High School and Waitsburg High School had educational tours of Baker Boyer's main branch to explore departments and potential career paths.
Since its beginning, Finance Academy of Baker Boyer has worked with 629 students. They have completed 2,718 modules for a total of 1,334 hours of financial education.
"By instilling financial knowledge early on, we empower students to make informed decisions and develop healthy financial habits the will benefit them throughout their lives," Christianson said. "Understanding concepts such as budgeting, saving, and responsible borrowing equips individuals with to tools to navigate economic challenges, seize opportunities, and achieve financial independence."