Karina Martinez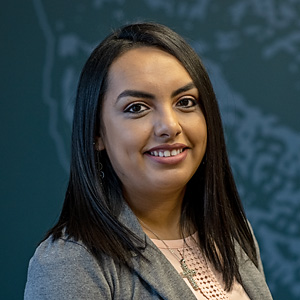 "I enjoy watching clients leave our branch with a smile on their face, knowing we helped make their experience that much better. Having the opportunity to build strong relationships with clients makes us more than a banker, it makes us a friend."
Branch Manager
Milton-Freewater

Karina began her career at Baker Boyer in 2017 as the Assistant Manager at the Milton-Freewater branch bringing with her 10 years of banking experience. She was promoted to Manager of the branch in 2019 and has a passion for working side-by-side with her team to ensure the clients have the best experience possible.

Karina grew up in the Walla Walla Valley and graduated from Mac-Hi in Milton-Freewater and earned an Associate of Arts degree with an emphasis in accounting from Walla Walla Community College. Prior to working at Baker Boyer, Karina started her career in banking at Bank of America as a teller and moved her way up from Personal Banker to Customer Service Supervisor.

Karina is active in the Milton-Freewater community and sits on the board of the Frazier Farmstead Museum and the Milton-Freewater Cancer Cotillion. She enjoys spending time with her daughter and family, playing and watching soccer, skiing, and traveling.