Helping You Achieve Your Legacy in the Digital World
By Rob Blethen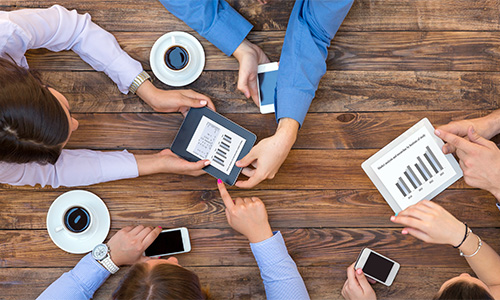 My kids are constantly asking me questions that I don't have answers for.
Why is the sky blue? Why does the timing of the tide change? Are we there yet? Actually, I do know the answer to that one. If you are like me, when this happens the first thing you tell them or do yourself is to "Google it!"
It's no secret that people today have instant access to more information than at any time in history. People are using technology and the internet to help them live their lives and figure things out literally all the time. But that doesn't mean the information they find on the internet is correct or a good solution for them. In fact, with regard to their finances, often it is not, especially as their situations become more complex.
Our process for financial planning is well suited to serve our clients in this digital world. The foundation for that is our formula for providing highly relevant advice, education and customized solutions primarily through our teams.
This process helps each client achieve the goals that are most important to them over their lifetime to secure their own unique legacy.
We know that many of our current and prospective clients are using technology to do research on their own before meeting with us to get information and understanding. Our process meets them where they are by regularly posting locally written and highly valuable financial information to Facebook, LinkedIn, Twitter, and BakerBoyer.com.
Once people reach a point where they know they need help from a professional, the advising process starts with establishing the relationship through dialogue, providing education and building trust. This takes multiple conversations to understand each client at their core; where they have been, where they are and where they want to go. This helps us figure out each client's individual Life Journey.
The focus of these important and lengthy conversations is helping clients discover and articulate their hopes, dreams, and goals, both in the short-term and in the longer-term. In doing this, we are also able to help uncover any unspoken concerns or goals they may have. These elephants in the room are often the most important component of the process.
For these important conversations, client comfort is paramount. So, we try not to meet in an office across from a desk. Instead, we meet in one of our comfortable rooms on the top floor of our downtown Walla Walla building (where you also get the side benefit of taking in the amazing views) or at a place of their choosing in any of the markets we serve.
Based on their Life Journey, financial circumstances and goals, we put together a group of experts that is tailored to them based on their needs. We then give options for potential solutions that are customized to and arrived at in partnership with the client. These solutions range from the best investment portfolio to reach their retirement goals to help them transition their business to the next generation, and often both simultaneously.
In today's impersonal world, our process stands out because it is all about partnership.
We share meeting agendas in advance for client input and the agendas are driven by what's most important to each client. Our process is collaborative, so potential customized recommendations are shared then adjusted to arrive at final solutions together. This includes educating clients about why we are recommending particular solutions.
We take great care to provide clients with advice that is not only relevant but delivered in plain language as much as possible to make it clear. This helps to increase the likelihood the advice will be acted on.
From a technology standpoint, we are working hard to provide the tools our customers crave to access their financial information on their terms. Our financial planning system allows clients to enter their financial information on their own and lets them explore some of the possibilities. Once we have helped our clients organize their financial life, they have 24-hour access via the app and website.
We do so much more than just provide investment advice for our clients. Our experts offer assistance in a variety of areas including:
Actively helping local entrepreneurs and families to optimize their businesses.
Helping clients get their financial lives more organized. This may include life events like buying a home or advice on budgeting.
Partnering with a client's attorney for help with estate planning.
Helping with long-term education planning for young families.
Partnering with a client's CPA for help with tax advice.
Helping with business succession planning for both family and non-family businesses.
Finally, as mentioned earlier, educating clients is a key part of our advising process. This includes providing information via D.S. Baker University, where we educate clients and prospects in areas such as:
How current national and world events will impact them
The best ways to get started with a business
How to grow their businesses
How to achieve their life goals
Attaining financial goals with financial planning and how to successfully transition their business to the next generation
We are excited about our ability to help our current and prospective clients in the digital world.
We would love to talk more with you about the specifics of your situation and how we can help you create a financial plan to achieve your dreams and secure your unique legacy.