Our Fiduciary Duty
At the core of our investment philosophy lies our fiduciary duty to act in good faith, representing the best interests of all our clients. We recognize and respect the individuality of each client, acknowledging the distinct values, experiences, and intentions you hold regarding your financial assets. We firmly believe that constructing a well-diversified investment portfolio, guided by a comprehensive financial plan, holds the key to optimizing the achievement of your financial goals while ensuring alignment with your personal values. We aim to create a lasting and meaningful impact on your financial well-being.
Our Approach

We Understand Your Needs

We will take the time to understand your needs, your risk tolerance, and your long-term goals.

Develop an Investment Strategy

We will work together to create an investment strategy and financial plan unique to you.

And Guide You Along the Way

We will meet with you regularly to make sure you're achieving your financial goals.
Our Investment Strategy
We define risk as the possibility of not having sufficient funds when they are needed. To address this risk, we develop investment strategies that take into account various factors, including your preference for seeking returns, willingness to take on risk, time horizon, liquidity, and income requirements, as well as disciplined investment management. When making investment decisions, we will consider historical market performance, ongoing market developments, investment costs, and tax implications.
Your investment strategy may encompass a combination of stock and non-stock investments. Stock investments generally yield attractive long-term returns but exhibit greater short-term variability compared to non-stock investments. On the other hand, non-stock investments provide lower yet more stable returns, which help to mitigate the volatility associated with stocks.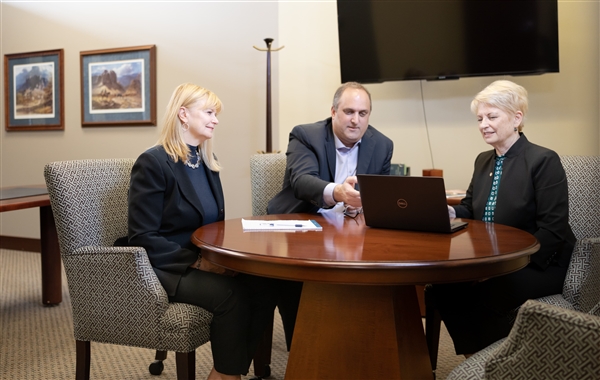 How We Can Help
Effective communication serves as the foundation for fostering understanding and trust. We are dedicated to customizing our communication approach to cater to the distinct needs, interests, and knowledge levels of our clients when it comes to investments.
We offer a range of investment solutions carefully crafted to safeguard and enhance your financial assets for the future while empowering you to make sound financial choices in the present. Recognizing the intricacies of today's world, we firmly believe that the optimal approach to serving you lies in assembling a team of experts who seek to thoroughly understand your individual financial circumstances and implement the most suitable investment solution.