Rosendo Guizar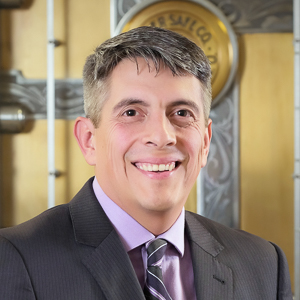 "Credit Administration may be a behind the scenes lending function, but customer service and attentiveness will always remain a vitally important aspect that I keep in the forefront of my work and responsibilities."
Vice President
Credit Administrator
Walla Walla

Rosendo began his banking career with Baker Boyer Bank in 1996. His entire career has revolved around lending, both consumer and commercial. He worked directly with customers for over 20 years until January 2018, when he moved to credit administration.
His focus in credit administration is to help develop the next generation of lenders for Baker Boyer Bank while ensuring that Baker Boyer's loan portfolio continues to be one of high quality and one that is based on sound lending criteria.
Rosendo holds a Bachelor's degree from Whitman College and is a graduate of the University of Colorado's Graduate School of Banking. He has lived in Walla Walla since 1990. Rosendo is a past president of Walla Walla Sunrise Rotary and also served as board President for Walla Walla Community Hospice.
Rosendo is married and has two adult children and one daughter at WA-Hi. When not spending time with his family, he enjoys golfing, woodworking, and has been known to play a computer game or two on occasion.