Tips for Year-End Charitable Giving
Targeted tax strategies available for those of us who value philanthropic investments.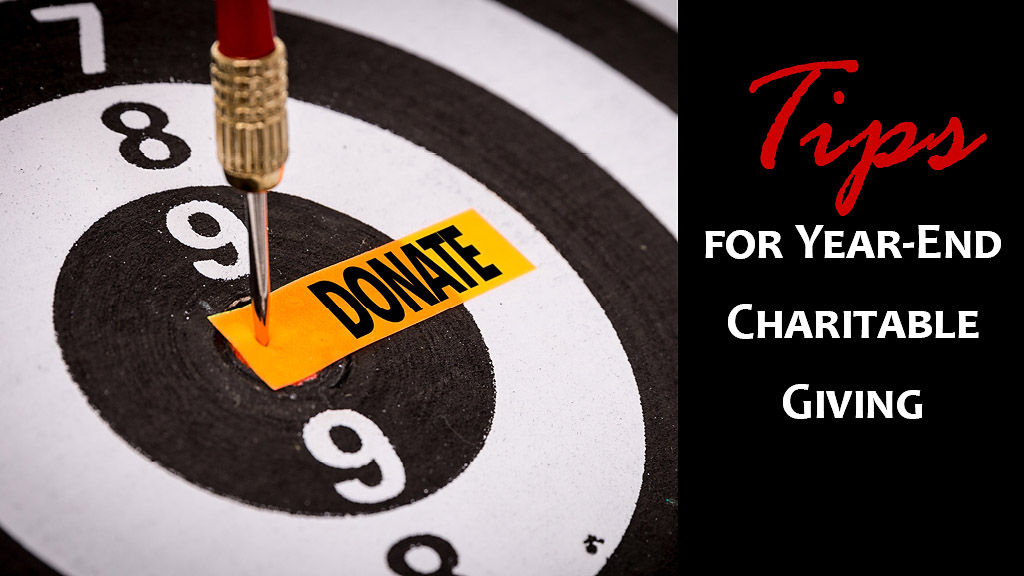 It has been nearly a year since the new tax reform bill, the Tax Cuts and Jobs Act (TCJA) owned the headlines. While there remains some confusion, especially as it pertains to the more complex business tax changes, there are some changes that individuals can begin to plan for now. The biggest of which is the increase in the standard deduction.
At first blush, the tax changes seem great. Who doesn't want to reduce the amount of their taxable income? Well, like anything in taxes, the devil is in the details. Bottom line, I believe there will be many folks this year that believe they are making a deductible charitable contribution when in reality they are not. Let me explain.
Prior to the passage of the Tax Cuts and Jobs Act, approximately 30 million taxpayers itemized but now that number will fall to 5 million.
That is, they had itemized deductions in excess of the standard deduction, which for a married couple filing jointly was $12,600. When taking into account mortgage interest, property taxes, and state income or sales taxes, many taxpayers were pretty close to that threshold. This meant that it did not take much in the way of charitable gifts to exceed the threshold and receive the corresponding deduction.
With the new tax laws, the standard deduction for a married couple has approximately doubled to $24,000 while the bill suspended and/or capped some of the previously allowable deductions.
In English, that means that the same taxpayer who was pretty close to the threshold for deducting charitable contributions in 2017 now has to give $11,400 to charity before the next dollar is considered a deduction.
That is a much higher hurdle when it comes to receiving any tax benefit for giving. So what tax strategies are available for those of us who value philanthropic investments?
The first and simplest way to preserve the tax benefit of charitable giving is to take advantage of what is called a Qualified Charitable Distribution. Like anything in the tax code, there are strings attached, so you'll want to consult with a tax advisor before moving ahead with this. The basics are that if you are over 70.5 years old and must take a required minimum distribution (RMD), you can have your IRA custodian make the distribution directly to a public charity and not have the income affect your taxable income. It's not a deduction per se, but it functions like one. It can also have the benefit of reducing some other taxes that might be incurred if the taxpayer were to take the distribution and then make the contribution themselves.
Another way that taxpayers can work to preserve some of the tax benefit associated with charitable giving is to "lump" gifts into a certain year. For example, if the same taxpayer referenced above had itemized deductions equal to about half ($12,000) of the standard deduction ($24,000) and had a charitable giving budget of $5,000 per year, they might be a prime candidate for lumping several years of contributions together. Instead of making a $5,000 donation each year for five years, they could donate five years' worth of gifts at once ($25,000) and easily exceed the standard deduction. In one case they'd receive no tax benefit and in the other, they would have deducted $13,000. In those next four years, that taxpayer could take the standard deduction and repeat the process in year six.
Now I can hear many readers thinking, "I don't know that I want to give all of my money to these certain charities in one year, I want to spread it out!"
There is a solution: Donor Advised Funds—in my opinion—are going to explode in popularity for this very reason. If you attended Baker Boyer's Economic Update, you'll remember the graphic that I showed and the mechanics of them, but basically, they are accounts that you can make gifts into now and make distributions later. You get the best of both worlds! In addition, you don't have to donate just cash. In fact, it's actually better to donate appreciated stock. You get the deduction (subject to a slew of limitations that we don't have time for) now and you escape the capital gains tax that you would have had to pay if you sold the stock and donated the cash!
In short, while the days of just writing donation checks to charities during December and being certain that you would get a deduction are mostly over, there are still ways to preserve the tax benefits of being charitably inclined. With a little thought, and hopefully some help from a qualified tax advisor, there are still ways to only give Uncle Sam his fair share and help charitable causes that matter to you.
About the Author