Financial Empowerment for Women: Navigating Life's Changes
Our recent D.S. Baker University event focused on financial empowerment for women in navigating life's changes. Women facing major transitions impacting their family, finances, and future were offered encouragement and resources to move through uncertainty and explore their dreams in a new way. Attendees also learned about the benefits of building a resilient financial plan to help them reach their goals. Below is a summary of those insights.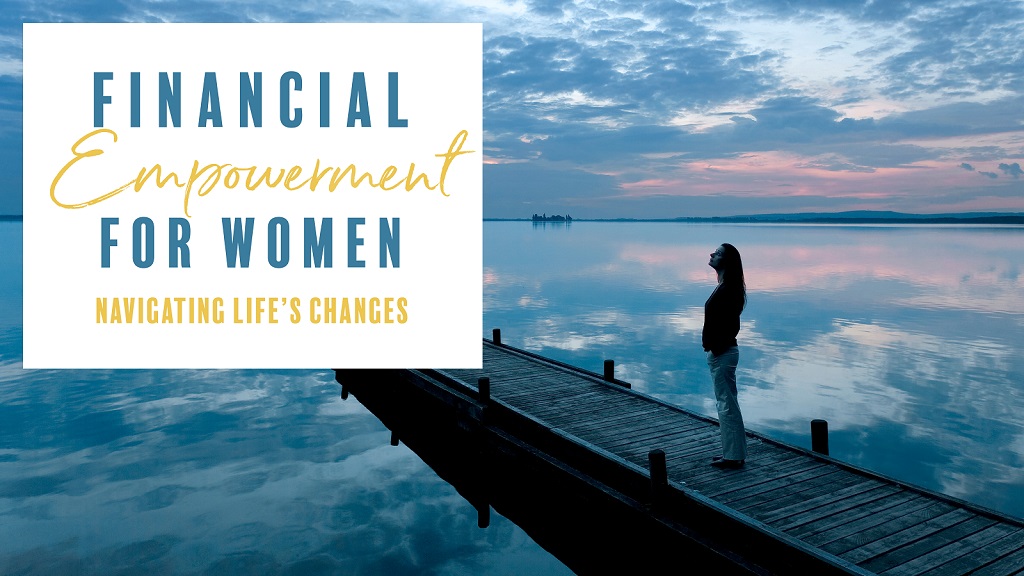 There is power in talking about money. It allows us share our experiences, make decisions based on our values, and take control of our future. As women navigate life's changes, we recommend they include three key principles in their money conversations to guide decisions at each stage of life.
1. Know your "why" - Get in touch with what motivates you and rely on your closely held values to guide you when dealing with change. Remember that the decisions you make are not just about money; but also about your passions, the driving force of your life. Knowing your "why" will help you evaluate trade-offs and options, such as considering a fresh career path or choosing to start your own business.
In my role helping clients, I always ask: "What matters most to you?" People often rank family, security, creativity, or compassion as being very important to them.
For me, my primary motivation is learning. I was always encouraged to be curious and learn new things while growing up. I loved school, and one of my closely held values has always been the power of education. I have carried this value into the volunteer efforts I've chosen in support of education, reflected in my years of service on my local school board. Another way I'm intentional about learning is by making the most of my daily commute and listening to a variety of podcasts.
2. Establish goals – How you spend your time and money should align with those things that are most important to you. One quick and easy way to get started on a list of goals is to complete this sentence: "I've always dreamed of…" If you answered, "start my own business" then congratulations, you've just listed your first goal. True goals should be bold and exciting, reflecting dreams you want to achieve for both near-term and future outcomes.
Sometimes it's not until we are facing a change in our lives that we take the time to explore our goals and dreams. After my divorce I returned here to my hometown with my young son in tow. I used that time to regroup and clarify what was truly important to me; the answer was family, and I made the decision to put down my roots here permanently. That pivotal decision led me to dream about building my own home on our family farm. It excited me to think about raising my son in a way similar to the way I had been raised. Building my dream home required planning, hard work, and seeking support throughout all the steps in the process. But what made it possible was taking the time to clarify what was important to me and that my goal of building my dream home aligned with my values.
3. Build a plan – Financial planning helps you organize your financial life. When you are able to align your money with your values, you have the power to navigate life's changes. For women who are stepping out of their comfort zone into new opportunities, relationships, or careers, financial planning can give confidence in a new season.

A question I hear from every client is: "Do I have enough to retire?" Regardless of a client's situation, each and every client seeks the peace of mind that they and their families are going to be "Ok" when they stop working. Building out a financial plan can help you to know if your income can support the retirement lifestyle you expect, but that's the easy part. Planning for your new identity in retirement, after decades of working, means more freedom to spend your time on the things that are most important to you.
Financial planning is unique to every individual. Like any complex situation, you'll benefit from accessing a team of experts who understand your specific situation – especially when it comes to a once-in-a-lifetime decision like retirement.
Our D.S. Baker Advisors partner with you in the financial planning process, leading crucial conversations about your values and goals. It's only after we understand both the qualitative and quantitative part of your situation that we can provide really thoughtful advice to help you navigate life's changes with confidence and peace of mind. As your situation evolves over time, we'll partner with you in keeping your plan and strategies up-to-date, helping you face unexpected hurdles that can accompany major life transitions.
Starting a conversation about money is critical for women approaching any unfamiliar phase of life. Talking through those issues is the only way to be sure we're spending our time and money in alignment with our values and intentions. As you encounter opportunities, challenges, or transitions in the future, know that you don't have to navigate life's changes alone. Our D.S. Baker Advisors team has the experience and expertise to help you feel confident in whatever stage of life you are facing. If you'd like to set up a time to have an initial conversation or to learn about future D.S. Baker University events, please don't hesitate to reach out to me or one of our other Advisors (listed here).
About the Author