On October 9th and 10th Baker Boyer held its 23rd Bi-Annual Economic Update in Tri-Cities, Yakima and Walla Walla. The event was well-attended in all three locations and was especially memorable, as it fell so close to the Bank's 150th Anniversary.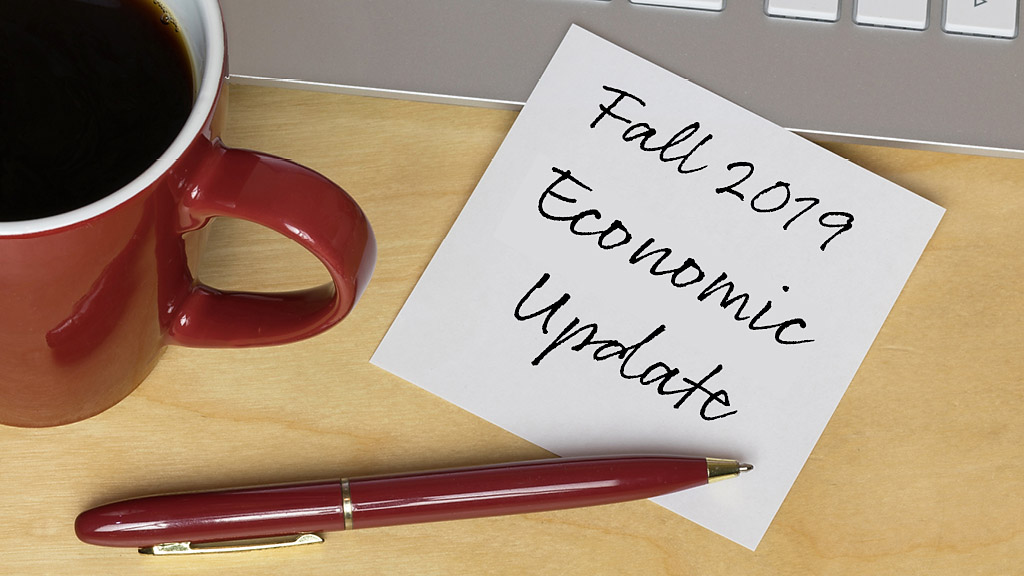 John Cunnison, CIO, kicked things off by giving the audience a broad economic overview and some of the investment implications resulting from the current broad economic environment. He began by addressing what has been foremost on everyone's minds, the possibility of a recession. Many have seen the headlines in the recent economic news that the yield curve has inverted. This headline is usually followed by: "and therefore we are headed for a recession." John explained what an inverted yield curve was and why it is used as an indicator for a pending recession. He said even though an inverted yield curve has proceeded the last seven recessions here in the U.S., seven is still an extremely small sample size. He made the point that globally, there have been nearly 100 inverted yield curves going back to the middle of the last decade, only roughly 50 of which resulted in recessions.
John went on to say that other economic indicators with equivalent predictive power, such as relatively rapid increases in the unemployment rate over the previous 12-month period, are signaling a very low probability of recession. We also aren't seeing the usual telltale signs of an overheated economy; inflation, rising interest rates, or cyclical booms in areas like housing. Now with all that being said, he did make it clear that the economy is slowing. He noted that,
"most economists think that we are likely to see slower but still positive U.S. economic growth over the next 12-24 months."
Even though a recession isn't Baker Boyer's base-case scenario, there is a higher probability of one today than at the last economic update. Most downside scenarios are related to the business uncertainty caused by increasingly restrictive trade policy and a trend toward higher barriers to trade.
He argued that because 2008 is so close in the review mirror, many investors likely assign too high a probability to another 2008-like outcome. Recessions are, however, a normal part of the business cycle, and John argued that we need to incorporate that fact into our investment strategies by maintaining a diversified portfolio and investing with a margin of safety appropriate to our ability and willingness to accept risk.
Brian Bruggeman, Financial Planning Manager, took the stage next to discuss some areas of opportunity that the Baker Boyer Asset Management Team sees in the market. He first set the stage by talking about the process of decision making.
A major fallacy that people run into during the decision-making process is called resulting.
Resulting means that people equate the quality of a decision with the quality of the outcome. Sometimes results are random and have no correlation with the quality of the decision made. With this in mind, he went on to say that you can't invest looking in the rear-view mirror. U.S. large-cap growth stocks were the best place to be for the last decade but that doesn't mean it will be going forward. Odds are, it won't be.
Brian focused on international stocks as an area that appears to offer considerable value for long-term investors. He said that so far in 2019, China is contributing 33% of global GDP with the rest of Asia contributing another 33%. In contrast, the U.S. is only supplying 11%. Economists are projecting by 2030 that the US will fall to the third-largest economy behind China and India. They are also estimating that the majority of the top 10 economies in the world will shift from developed to emerging countries. Brian said the driver behind these projections has to do with a significant increase in the middle class of these emerging countries. These changes alone don't drive stock market returns, but they do increase opportunities for growing businesses and, by extension, investors.
Currently, all these foreign countries look inexpensive compared to U.S. Brian shared that the valuation spreads between U.S. vs. developed and emerging country stock prices are at a 40-year high. He also showed that foreign stocks not only look inexpensive compared to U.S. stocks but also look attractive relative to their own historical valuations. Buying these inexpensive foreign stocks with a very strong U.S. dollar can add to the performance tailwind we are expecting from the attractive valuations. In essence, there are two reasons that international stock looks attractive: currency and valuations.
Brian finished up by stating that the Portfolio Management team at Baker Boyer isn't alone in this opinion. J.P Morgan, Vanguard and State Street all expect international stocks to outperform U.S. stocks for the next 10 years.
The Economic Update turned out to be a great event. We especially want to thank all those who attended for making it so. If you were not able to make it, we look forward to seeing you next time.
About the Author