Building a Future in a Data Filled World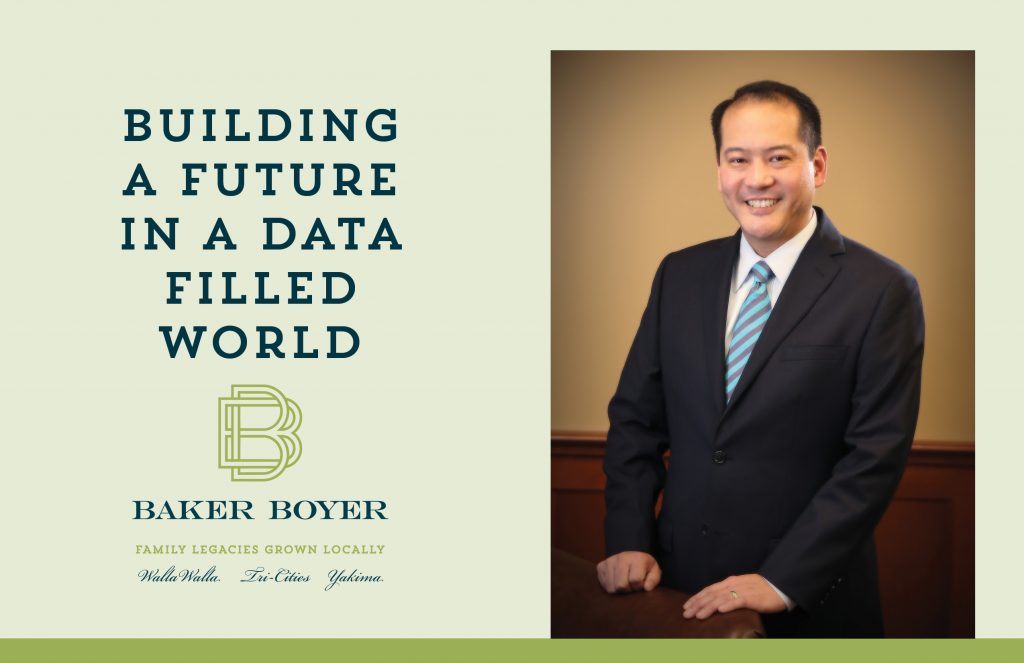 Looking back at 2016, it was a year of evolution for Baker Boyer and our continuing promise to our clients. I say evolution for good reason. It is not a change in focus for Baker Boyer, but an evolution of the Baker Boyer experience: The feeling of empowerment a client has after they interact with the Bank. This experience is simply evolving as our clients adapt to an ever-increasing data-filled world. Living in a data-filled world isn't bad, but it does add new complexities for everyone who lives in it.
What is the difference between a data-filled world and the one we had previously lived in? For one thing, there is much more data that is readily available and fewer resources at our disposal to interpret that data. Just open any web browser and search for a solution to any question you pose. Instantly, you will receive millions of hits from around the world. Logical people know that half of the data you receive is correct while the other half is suspect at best and fake at worst. You are left with an abundance of data and little ability to put it in context with your actual circumstance. Worse yet, you are bombarded with online advertisements that offer a myriad of products and services for a price, leaving you wondering if the solution provided is a sales gimmick and you are the prey. Sound familiar?
Just to give you one example: imagine you have an investment portfolio and you want to know what best way to invest for your future. You search for the best investment strategy and receive millions of articles and advertisements in response. But which one of those investment strategies is actually specific to your situation? How much should you invest in one strategy if you have multiple goals: goals like saving for college, retiring at 60, making a major donation to your church, and the list can go on and on? Suddenly you realize that you have opened Pandora's Box and have a lot of data but you are still left feeling queasy. You are still left without confidence in a solution.
The example above is just one question you ask every day to which you expect simple answers from the Internet. What about other questions: how much of a house can I afford if I have these goals later in life, what growth will my business need to provide future income to me, and how can I successfully transition the family farm to my children? These questions are complex when looked at individually, but the best solution answers all of these questions in tandem. How will you take the nearly infinite pieces of data that are available to you on the Internet, process them and find the one solution that fits your exact circumstance?
This is the data-filled world our clients live in and the world in which Baker Boyer is determined to help clients find unique holistic solutions.
We need to help clients feel a sense of empowerment by interpreting and translating data they found in the digital world. The goal is to partner with clients by taking generic information they find and deploying unique custom-made solutions found only at Baker Boyer.
This partnership with Baker Boyer starts with deciphering and understanding our client's journey. Each journey is personal and unique because each client has his or her own hopes, dreams and things that will allow them to feel successful. Until the Bank fully understands our client's unique personal story we don't really know how we can help empower a client to be successful.
At Baker Boyer, we see a client's journey as an unfinished puzzle, where we collect client information to put together a more complete picture of their needs. One of the responsibilities of each employee is to continually collect puzzle pieces so that the experience a client has is one of empowerment, trust, and unique to them.
In addition to understanding a client's journey, Baker Boyer has also accumulated experts in various professional fields. Advisors in professions as varied as law, accounting, finance, family businesses, financial planning, investing, trust and estate planning, consumer lending, family dynamics, community banking, and technology. These advisors are not only experts in their own fields, but have been trained to uncover clues to a client's personal journey. Baker Boyer Advisors can be deployed as a single expert if that is all a client currently needs or as a team of advisors if the need requires a multi-faceted solution.
In 2016, Baker Boyer also launched D.S. Baker University, a new school specifically for Baker Boyer clients and taught by Baker Boyer Advisors and other professionals.
We have started with courses in financial planning, trust design, business growth strategies, and family business succession planning. The latter included a follow-up session where we conducted small group discussions with members of the senior generation and junior generation. We discussed obstacles and misunderstandings between both generations of family members and ways to overcome hurdles standing in the way.
One of the obstacles between generations is common to all of our clients. It involves the differences between those who have grown up as digital natives as opposed to digital immigrants. Yes, there is such a thing as a digital immigrant. Immigrants are those who have known a life before the Internet and digital technology (those over 30); natives are those who have known no other world than a data-filled digital world (those younger than 30). A digital native is very comfortable living in the data-filled world and feels empowered when he or she can answer simple questions by researching digital data they found themselves. But when a digital native needs more complex solutions, he or she values an advisor who helps translate mounds of data into a more complete holistic solution. Baker Boyer believes our advisors and consistent promise to empower clients are well suited for both digital natives and digital immigrants.
Baker Boyer has paid particular attention to the use of the digital medium. While digital immigrants have traditionally interacted with the bank face-to-face; digital natives find it more acceptable to interact digitally. Baker Boyer will need to empower digital natives to find simple solutions through our own digital presence, while allowing them access to a team of our advisors at a time and through a medium of their own choosing.
Digital immigrants who desire more face-to-face interactions will also need additional resources to empower them to continue exploring their journeys. Because of this, Baker Boyer will continue empowering our communities by starting the design of a new business center in Yakima, Washington. Yakima has become one of our fastest growing markets and we are currently limited on services we can provide our clients by the size of our current building. This new business center will allow us to expand our capabilities to both digital immigrants and digital natives by providing additional face-to-face meeting spaces as well as an expanded home for our digital systems.
You may ask: Why is Baker Boyer going down this path?
In a world where all other financial institutions are focusing on branch closures, transaction fees, and making the experience more generic, why is Baker Boyer exploring a "unique," future?
First, our unique approach to empower our clients has proven to be very popular with our clients, making Baker Boyer one of the Top 200 Community Banks (American Banker Magazine) for nine consecutive years.
Second, and more importantly, it's because a bank (any bank) can only be as strong as the communities they are in. Banks can either focus on short-term gains and take from their community or they can focus on the long-term success of their community and revel in a future that is symbiotic for both. Baker Boyer knows who it is and what we mean to our communities. After 147 years we have never lost sight that we are servant leaders: We LEAD, but we are also SERVANTS to the communities we live in and the different generations that populate them. Each employee at the Bank has the same loyalty and belief in our hometowns as did the original founder D.S. Baker.
But belief is not good enough. Each generation of advisors is asked to not just believe, but to strengthen and grow the economy of our communities. Like I said at the beginning of this article, this isn't a change in our focus, but an evolution into a new data-filled world.
I end with a promise to our community: The Baker Boyer experience is alive and well. In addition, through careful planning, we intend to make the Baker Boyer experience accessible to future generations of clients.
Best regards,
Mark Kajita
President & CEO
About the Author