Longtime Baker Boyer Bank Employee Retires
06/26/2020
This article is reposted from the Valley Herald in Milton-Freewater..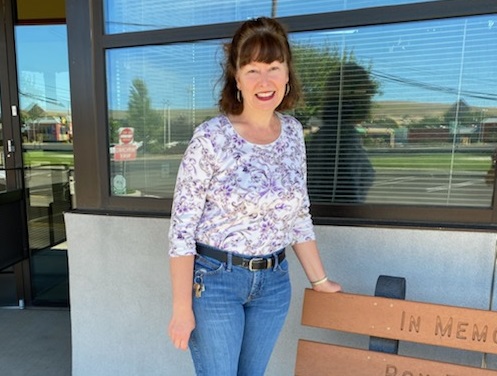 The final link between Bank of Commerce and Milton Freewater branch of Baker Boyer Bank will punch the time clock one last time on Friday, July 3. Charlotte Birdwell is ready to retire.
The 1983 Mac-Hi graduate's first paycheck came from Brittany Farming driving an open cab combine. Required tasks included greasing the machine. "Mom used to say I got more grease on me than the machine. I remember working in a field outside of Pendleton (vowing) to someday have a job where I was always clean."
Post-secondary education came from Blue Mountain Community College before transferring to Washington State University. Studies in agriculture provided an opportunity to give up working harvest and accept a summer position at the Chicago Board of Trade. In the days before technology, the WSU student was instructed to "Run!" and grab a ticket from traders who stood in open pits - helping execute a trade for grain futures contracts.
The road to Milton Freewater made stops in Astoria, Spokane, and Pendleton before permanently moving back to the childhood neighborhood of Triangle Station.
In 2000 Bank of Commerce, owned by Baker Boyer, began making plans to relocate to Highway 11. "It was Meghan (Clubb's) vision that Main Street of Milton Freewater was Highway 11."
In the fall of 2001, 20 people moved into the new Baker Boyer Bank building on Highway 11 constructed by Opp and Seibold. "We were fully functional, loan officers, tellers, management, etc."
Birdwell's extensive background in finance found roots – and real meaning – when helping customers.
"I have "the talk" with young people in their 20's." Einstein's Time Value of Money, known at the 8th Wonder of the World, is a soapbox Birdwell climbs on stressing the importance of saving. Typical reaction is "dumbfounded" when sharing the ease of reaching millionaire status by starting early.
Birdwell, invited to give "the talk" at Mac-Hi, smiles when remembering being approached after class by students wanting more information. "I made an impression."
"I can walk through the cemetery and pick out my people" is prefaced by stories of families who have appreciated "the personal connection. I certainly got more out of it than they did." The seasoned banker is quiet, and obviously humbled, when remembering conversations shared – confidential information shared with a person trusted.
Before the Covid-19 pandemic, sitting in the lobby of Baker Boyer Bank found customers routinely requesting a one-on-one conference with Birdwell. "I always remember that the customer is someone's grandmother or mother. I treated them like mine."
A drive-by retirement celebration has been planned for Charlotte on Friday, July 3 from 10-11:30 a.m. at Baker Boyer Bank, 320 North Columbia, Milton Freewater.