Baker Boyer's 150th Anniversary Book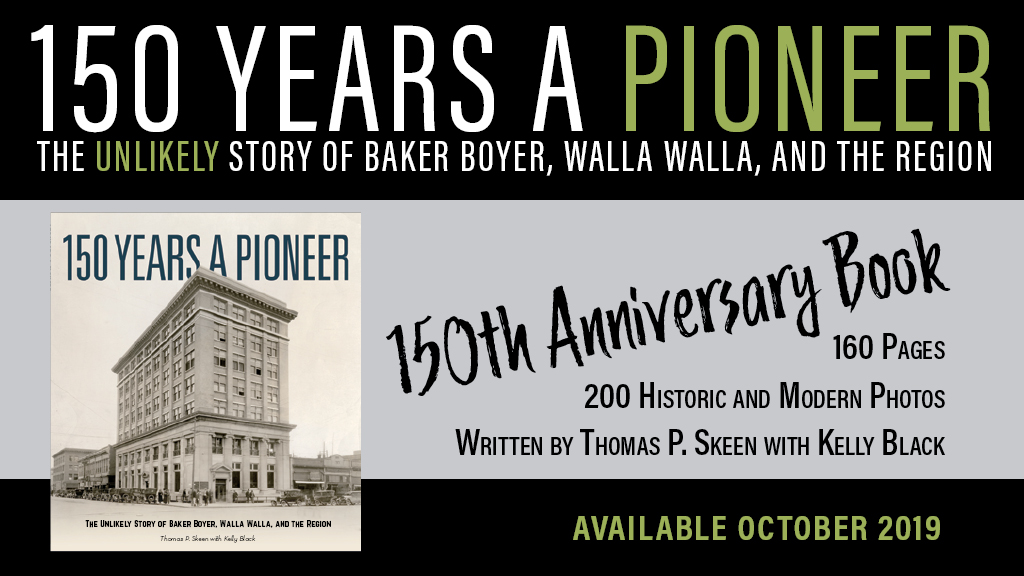 "150 Years a Pioneer: The Unlikely Story of Baker Boyer, Walla Walla, and the Region" is a celebration of six generations of commitment to building a thriving and vibrant community. The collection of stories illustrates how the power of collaboration and innovative thinking, valuing relationships, and tending to the strengths of the people and the land are the foundations for an undeniable community spirit.
From the Book Flap
WHEN A NEAR-PENNILESS Dr. Dorsey S. Baker headed west in his mid-20s with a wagon train in 1848 to carve out his future, he came with the skills of a physician, merchant, and farmer, the spirit of an entrepreneur, and the mind of a visionary. Those traits coalesced in Baker as a community builder in Walla Walla, wherein 1869, he founded Baker Boyer Bank and later built the state's first railroad. This book is a celebration of Baker and the 150th anniversary of his community bank—the oldest bank in the Pacific Northwest. More significantly, it is a celebration of the rural region Baker and six generations of his descendants, along with the community at large, helped establish and thrive in southeast Washington. It's about something locals call "the Walla Walla Way," a legacy of mutual collaboration and innovation that has created a vibrant, nurturing climate for businesses, education, agriculture, philanthropy, the arts, and world-class wines. This book provides a glimpse, across the generations, of how Walla Walla has gained national recognition as one of the best small towns in America.
Sample Spreads
From the Foreword, by Megan Clubb
GLANCING THROUGH the pages of this book, you will find a collection of stories that illustrate 150 years of entrepreneurialism and collaboration between Baker Boyer and our community—a true celebration of the vitality of the bank and the region.
These stories highlight the contributions of hundreds of individuals in our area. They are stories of innovative thinking and great partnering. They acknowledge the value of education and of giving back. They demonstrate the power and heart of the community.
These are the stories that I heard as a child and experienced as an adult. Reading them, you will understand how I have been inspired by those who went before me and those I have worked beside. You'll see why I am confident that our area's young leaders, with their own passions and own partnerships, will continue to build and strengthen our community, and our future.
About the Authors
When THOMAS P. SKEEN was tasked with interviewing U.S. Supreme Court Justice Sandra Day O'Connor in 1987 for one of his first newspaper assignments, he knew he had made the right career choice. Raised in a globe-trotting military family, he found that journalism nourished his relentless curiosity about how the world ticks. He graduated from San Francisco State University in 1986 with a degree in journalism. As a reporter, and then editor, for newspapers in the Pacific Northwest, Skeen covered business, government, agriculture, Washington's wine industry, the arts and sciences, health, and education. He also was a senior editor at the Tokyo-based Pacific Stars and Stripes, covering the U.S. military abroad. He retired in 2018 as a newsroom managing editor at the Walla Walla Union-Bulletin. He and his wife, Autumn, have three children and five grandchildren.
KELLY BLACK, associate marketing manager at Baker Boyer, is a documentary storyteller with a master's degree in journalism. Her work as a videographer, photographer, and writer has taken her into numerous communities around the world focusing on development and justice issues. Whether in the developing world or at home in the U.S., she often digs into the question: What stymies a community and what makes it thrive?
WHERE TO BUY
After October 21, the book will be available at three local retailers:
Book & Game

1st and Main St
Walla Walla, WA 99362
(509) 529-9963

755 Myra Road
Walla Walla, WA 99362
(509) 525-7703

280 Boyer Ave.
Walla Walla, WA 99362
(509) 527-5274
This book is also available on Amazon.