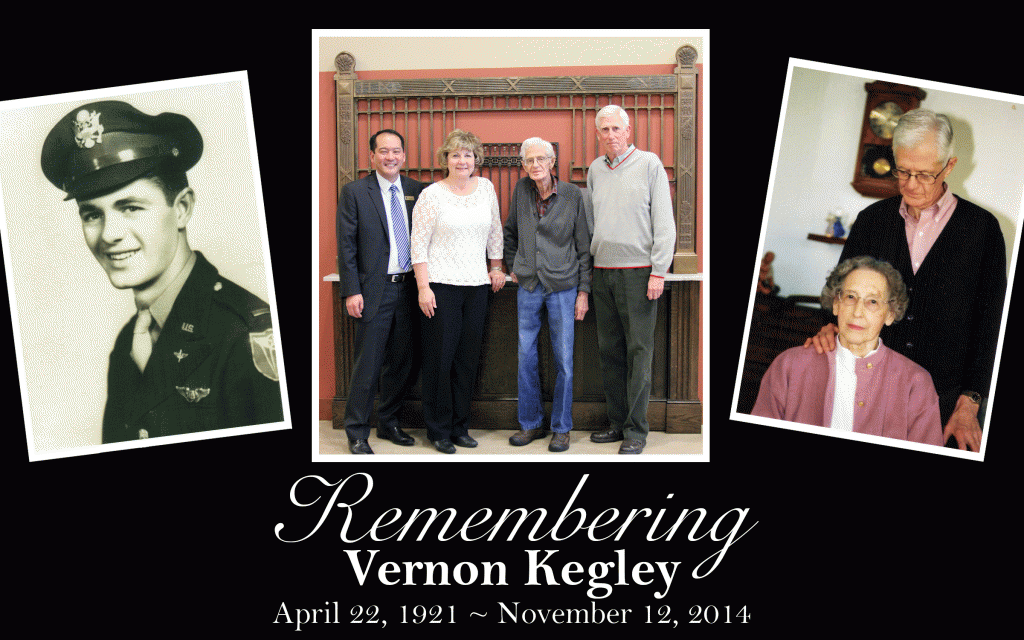 Vern Kegley, the slightly built, but extremely influential former president of Baker Boyer passed away peacefully on November 12th in Walla Walla.  Vern was known as a mentor and as a pillar of both Baker Boyer as well as the community in which he served so dutifully.  Vern will be remembered for his wise sage advice and the extra time he took with everyone he met.  His curiosity for learning something he did not know previously stayed with him his entire life, and everyone's life story was important for him to know.
Vern was born in Gibson City, Illinois, on April 22, 1921.  At the start of World War II, he enlisted in the Army Air Corps and followed that career here to the Air Base in Walla Walla.  After the war, like many veterans he searched for work while he was residing at the local YMCA.  One day he made the choice to apply at Baker Boyer: that decision would be a blessing for both himself as well as the Bank for nearly six decades.  He started his career as a messenger, then as a proofer of the accuracies of hand written checks before moving up to the teller line.  While working at Baker Boyer he saved enough money to attend Whitman College where he graduated with a degree in Economics.  Later he married a fellow Baker Boyer employee, Marylou Coleman in 1948. Vern and Marylou had three children, a daughter, Jovonna, and two sons, Dale and David. Vern was recalled back into service during the Korean War as a navigator and was discharged as a Lt. Colonel in the Air Force with over 50 missions under his belt.
Vern continued to impress all those who knew him.  His work ethic was legendary.  One Bank President noted that when the calculator was first available, Vern challenged the staff to add a bunch of numbers more quickly that he could do with a pencil and paper.  Not surprisingly, Vern was faster!  Vern's hard work paid off as he was promoted to Vice President, then to Executive Vice President and finally President of Baker Boyer from 1982 to 1985.
Vern dutifully served on committees of Whitman College, and he volunteered for the United Way and various other local charities.  He was a big advocate of donating blood and gave every chance he could. He never forgot the place where he found refuge, thus his love of volunteering for the YMCA.  Until recently, he could be found there playing racquetball with old friends.
Vern's love of life, love of learning and love of mentoring will be sorely missed by all those who knew him.  Every President of Baker Boyer after him has sought his wise counsel, and his flame of knowledge will be both remembered as well as nurtured for future generations.  He was a pillar of the community we call home, and will always be remembered as such.